Les statères aux types de Philippe II de Macédoine : de l'Égée à la Gaule, des originaux aux imitations
The staters with types of Philip II of Macedonia are as crucial an issue for specialists of the Greek world – in which they are one of the main gold coinages – as for those of Gaul, where these coins were much imitated. This article aims to provide a cross-perspective on these staters, both as a Greek coinage and as the model for a large number of Gaulish gold coinages. We first offer a revised inventory of original staters found in Gaul based on the existing literature and a table summarizing the first series of imitations. Through the study of the main series issued in Macedonia and in northern Asia Minor, we then try to give a more accurate view of the circumstances and extent of import the gold coins of Philip in Gaul. Finally, after replacing these phenomena in the context of transition and expansion of the Celtic world in the 4th and 3rd centuries BC, we discuss the various hypotheses explaining the arrival of these coins in Gaul.
Les statères aux types de Philippe II de Macédoine représentent un sujet d'étude crucial autant pour les spécialistes du monde grec – au sein duquel ils constituent un des principaux monnayages d'or – que pour ceux de la Gaule, où ils furent abondamment imités. Cet article propose un regard croisé sur ces statères, à la fois comme monnayage grec mais également comme modèle à l'origine d'un grand nombre de monnayages en or gaulois. En nous appuyant sur la documentation existante, nous proposons tout d'abord un inventaire révisé des statères originaux aux types de Philippe II trouvés en Gaule, ainsi qu'un tableau synthétique des premières séries d'imitations. Dans un second temps, nous tentons de mieux cerner les circonstances et l'ampleur du phénomène d'importation des philippes originaux en Gaule à travers l'étude des principales séries émises en Macédoine et dans le nord de l'Asie Mineure. Nous reprenons enfin les différentes hypothèses avancées pour expliquer l'arrivée des philippes en Gaule et leur succès tout en replaçant ces phénomènes dans le contexte de transition et d'expansion de l'ensemble du monde celtique au Ive et au IIIe siècle av. J.-C.
Fichier principal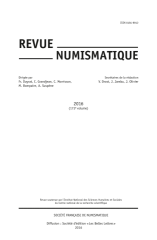 Nieto-Pelletier Sylvia et Olivier Julien -2016- Les statères aux types de Philippe II de Macédoine de l'Égée à la Gaule, des originaux aux imitations.pdf (5.96 Mo)
Télécharger le fichier
Origin : Publisher files allowed on an open archive